The Iowa Antique Radio Club & Historical Society visits another Iowa Pioneer Radio Station… WMT, Cedar Rapids 3/2/2016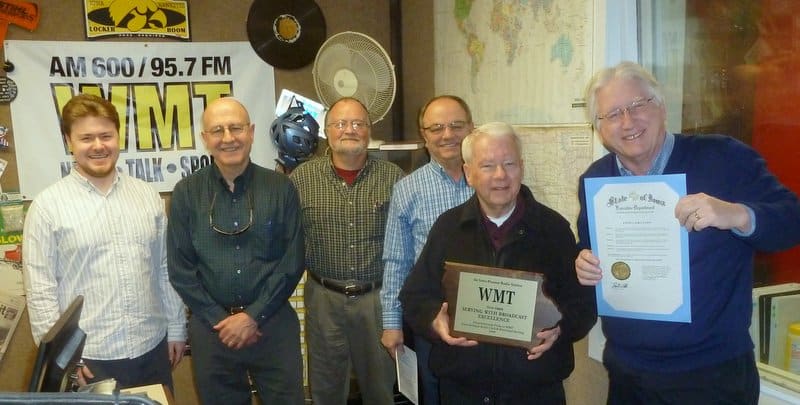 WMT Radio was the second stop in our club's 2016 project to salute and bring new awareness to the heritage of six of the oldest Iowa's Pioneer Radio Stations.
The first station IARCHS honored was WOC in Davenport, on February 16th,
2016.
This time, IARCHS delegates Doug Spyrison and Tom Zenisek represented our
club at WMT Radio.
Both Doug and Tom did a great job on the Wednesday's March 2, 2016 morning talk show hosted by Randy Lee, WMT program director. The 20 minute conversation of course was to dwell on the station's history, which Randy led. Tom presented the station a plaque as a gift from our club, and Doug had a proclamation to deliver from and signed by Iowa Governor Terry Branstad, naming WMT as a "State of Iowa Pioneer Radio Station". There was also some information given about the club, and how to access the club website.
The on-air session was videotaped by WMT, and we hope to see it before long after they have a chance to edit it.
It was an enjoyable experience….even though the station is a very busy place, and their clock rules everything happening to the second, Randy Lee and all the others at WMT treated us very well with their warm hospitality. We had an interesting look into the WMT archives…a big room loaded with their on-air history on disks, and all other kinds of obsolete media….it might be a challenge to find the equipment in some closet to play those once again. Maybe at an IARCHS auction??