IARCHS Annual Antique Radio Auction



IMPORTANT MESSAGE REGARDING THE MAY 2nd 2020 IARCHS RADIO AUCTION
2020 Auction Update: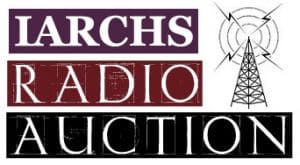 Due to the Coronavirus outbreak IARCHS has decided to CANCEL the May 2nd 2020 Radio Auction. The club also has decided not to reschedule the auction in calendar year 2020 but will be looking forward to the 2021 auction instead. Please continue to watch this page for further news updates in early 2021.
Thank you for your understanding and please be safe and stay healthy!
IARCHS
Questions please contact us:
Additional Questions:
Contact the Club leadership, Email using our contact page.
Sponsored by Iowa Antique Radio Club and Historical Society
Look at previous years of our club Auctions shown below and see how nice and huge our Radio auction really is.
---
— 2017 Auction pictures (sorry no pictures for 2017)

Sponsored by Iowa Antique Radio Club and Historical Society