About our Club
There will be a 2023 Antique Radio AUCTION
We have found a new location this year and have reserved the Lawrence Community Center in the city of Anamosa Iowa. Anamosa is located on highway 151 between Cedar Rapids and Dubuque. It is a very nice facility with great parking. Plus, it looks like we will be re-homing at least one large collection (details TBA). If you are looking for any specific radio to add to your collection, or have some you wish to sell you need to take advantage of this event. Also, notice that we are adding vintage audio and antique computers to the auction this year. Check out our Annual Auction Page to get more details and see previous auction pictures.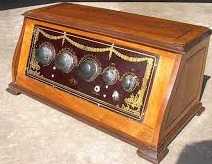 Iowa Antique Radio Club & Historical Society or IARCHS is a group of radio fans that exists to support Antique radio collectors and hobbyists efforts to restore and document radio history. We hold several meetings a year in various locations in Iowa, and have members everywhere. We have an online Iowa radio manufacturers list, and also provide various repair documents. Membership is free at present, and we now have quarterly ZOOM meetings, registered members will receive meeting invites. Look through our website offerings and discover some new Iowa Radio facts.
If you want to contact us, all our leadership gets the email sent from our contact page, feel free to ask for help disposing radio collector estates, or getting answers to your questions on Antique Radios.
Happy Collecting from the Radio Guys @ Radio-Collector.com (remove the spaces before using)