2021 Radio Auction Finalized
Everything is set for our 2021 annual antique radio auction. From what Fred (auctioneer) says, auctions are doing great this year. Looks like folks are feeling better about everything and just wanting to get back to normal. So check your collections, your attic, and maybe even that crowded display self and figure out what you would like to pass on to a new owner. This way you can get some $$Cash$$ to freshen up your prize list a bit. A new thing this year, you can put a reserve price on 3 (only three, no exceptions) of your selling radios. See our auction description for details.
To get wide exposure for your radios which will improve the selling prices, get pictures to Craig so we can get them posted on our website. To help out use the radio's model and year in the picture name. for example "1926-RCA-Radiola-30.jpg". Hoping to see you all there Check out our auction page for details.

---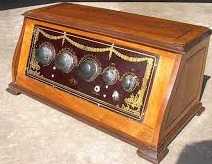 Iowa Antique Radio Club & Historical Society or IARCHS is a group of radio fans that exists to support Antique radio collectors and hobbyists efforts to restore and document radio history. We hold several meetings a year in various locations in Iowa, and have members everywhere. We have an online Iowa radio manufacturers list, and also provide various repair documents. Membership is free at present, and we now have Bi-monthly ZOOM meetings, registered members will receive meeting invites. Look through our website offerings and discover some new Iowa Radio facts.
If you want to contact us, all our leadership gets the email sent from our contact page, feel free to ask for help disposing radio collector estates, or getting answers to your questions on Antique Radios.
Happy Collecting from the Radio Guys @ Radio-Collector.com