Iowa Radio Manufacturer Encyclopedia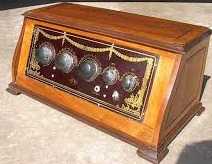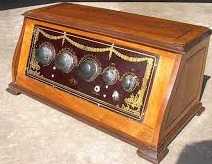 This Iowa Radio Manufacturer Encyclopedia supplements the list of Iowa cities where the radio makers were located.  This is a nice place to look up your radio to see if it was one of those made in Iowa ones. Organizing the information like this helps make it easier to read. The radio pictured on the right is a Galloway Salisdyne battery set manufactured in Waterloo IA
Click here for a list organized by the Iowa Cities where the Radio Manufacturers were located.
ANDERSON RADIO COMPANY
Located in GOWRIE, "Manufactured the "Quadra-Dyne" Model 70, a six tube battery set.
ARTHUR P. GIGGS PIANO COMPANY
Located in DAVENPORT, Platt Radio – late 30'S AC set
AUDIO SERVICE LABS
Located in CLINTON, 1932, model 440 – four tube set
BELMONT_RADIO
Located in EMMERY, Operated until 1950. Plant was located next to the town of Emmery, in the buildings that were used during WWII, to process hemp to make hemp rope. Company assembled table radios for Montgomery Wards, Grant-line, Firestone and others. Also of note in Oelwein, a company, owned and operated by Belmont, manufactured radio speakers about the same time the Emmery plant was in operation. John Simon of Farley worked for the company and after its closing went back to Chicago, to work. (JL)
BLUEBIRD
Located in SOLON, Harold Meyers, owner and operator of company, they made radio sets from 1924 to 1926. This company was located in a lumberyard or a building on the sane property, as the lumberyard. The Bluebird set was a two tube regentive type set, with a front panel, with two, two inch tuning dials, and a filament rheostat control. The panel was mounted to a flat base board, where two 201A'S tubes were used. Along with this a square copper buss bar was used to connect the components on the base board and the front panel. The front panel had inscribed on it "BLUEBIRD" (Note) "Joe Zajieck 3405 Rochester Ave, Iowa City, Iowa, family had one of these from the 1924'S to mid 1930'S and supplied a lot of the above information. Yet to be confirmed, the exact location of the company, the exact name of the company, how many people were employed by the company, how many sets were made, and if any of these sets are still in existence yet to day, in some radio collector collection. (submitted by Jerry Lange)
BODE ELECTRIC COMPANY
Located in BODE, Manufactured Electric Soldering Irons – 1925
BRENARD MANUFACTURING CO.
Located in IOWA CITY, Heraldyne Deluxe Radio Combination Radio & Phonograph units 1925 – 1938
BRUNSWICK RADIO CORPORATION
Located in DUBUQUE, On April 10, 1930 the Warner Bros. pictures Inc, purchased the original Brunswick-Balke-Collender Co. and manufactured radios and phonographs until 1931.
BRUNSWICK-BALKE-COLLENDER CO.
Located in DUBUQUE, Company started June 12, 1912 Manufactured Radios in early 1920'S to 1930'S
C H GEPPERT MANUFACTURING CO.
Located in Des Moines, Made "Kleertone" crystal set
CALDBECK TOOL AND MANUFACTURING CO.
Located in Des Moines, Made Demcal straight line tuning condensers
CLARION
Located in ALBIA, "Clarke Bros., 20's, unconfirmed "
COLLINS RADIO CO.
Located in CEDAR RAPIDS (Now Called Rockwell Collins), established in 1933. Broadcast & Shortwave Radio, Military,  and Aerospace Radio manufacturer. Collins Radio also

Collins 51J4 550 Khz to 30.5 Mhz

produced AM broadcast station equipment, from high powered transmitters, station consoles, Turntables, and even mobile reporter transmitter links. More information about Arthur Collins & Collins Radio Company check out CollinsBook.com. Learn about some of the early pioneer radio experiences that occurred here in IOWA. Collins Radio has to be the most important and prolific Radio Manufacturer Iowa ever had. Today they still manufacture radios, and have additional locations in other states. And YES to the naysayer, they did make commercial AM Broadcast receivers.

CONTINENTAL RADIO AND MANUFACTURING CO.
Located in NEWTON, Owner Harry Ogg, Carl Menzer was hired a Chief Engineer, along with two other employees, Perry Van Epps and Clifton Cammack. The following models were manufactured: BR (SOLD FOR $55.00); BRA (SOLD FOR ($90.00) a very simplistic set using 01A tubes, Cell (sold for 100.00), C-22 (sold for $65.00), and C-133 (Sold for $50.00), and the Continental 5 (sold for $100.00) a five tube TRF set. In 1923 – 1925 company sold to Earl Bigelow and Frank Wilson. After sale of company Harry Ogg started Radio Station "WHAT" this turned out to be not a profitable venture. Carl Menzer later joined the staff at the University of Iowa and served as Professor of Engineering and director of the radio station "WSUI". Located at 211 North 3rd street.
CROSLEY
Located in AMANA, During the 1920's? Unconfirmed
DUNN MANUFACTURING COMPANY
Located in CLARINDA, Manufactured vacuum radio sets – 1925.
ECKSTEIN RADIO and TELEVISION Co
Located in DECORAH, In 1939 the company was purchased by Ernie A. Eckstein, who moved the company to LeRoy, MN. Eckstein continued for a time to make radios under the L. Tatro name and later became the Ecko brand radio. (Submitted by Dennis Hilberg)
ELECTRIC SPECIALTY COMPANY
Located in CRESCO, Made radio condensers "Mansbridge" & "Standard" – 1923
ELECTRICAL RESEARCH AND MANUFACTURING COMPANY
Located in WATERLOO, Company was originally known as the 'ELECTRICAL REPAIR AND MANUFACTURING COMPANY" Operated from 1920 to 1929 made a "Superion Flex S-3″radio.
ELECTRONICS INC.
Located in DUBUQUE, 1946 – 1947? Built 3 – 4 different AC/DC table sets for Admiral Radio Corp., Truetone, and Mantola. Company was owned by Charles Cain, presently retired and residing in Guttenberg, Iowa. Company was located on 6th and Iowa Street presently the location of the Iowa Street parking ramp. Company manufactured most all of its own parts for radio manufacture and retail, however did not manufacture vacuum tubes. More information will be forth coming from Mr. Cain. (DECEASED 2002) The "5B1" chassis was the main chassis made in Dubuque this was mounted in various cabinets, like the Admiral Model 6T02-5B1-MA, the company produced 2000 set per day. (Submitted by Jerry Lange)
F. A. HOLMS AND COMPANY
Located in WATERLOO, Date of operation 1925 to?
FARM-LITE RADIO CORPORATION
Located in KNOXVILLE, Early 1930's Manufactured 32V farm set Dennis Has a sales brochure that states ""The Farm-Lite All- Electric does not contain batteries, battery eliminators, or chargers in any shape or form"". The bottom of the brochure states ""You Will Like the Farm-Lite All-Electric Radio – Ask the Man Who Has Heard One"". The set was a 32-volt direct current set made to be powered from a farm lighting system. The tube line up consisted of 2 – 24's, 2 – 27's, 2 – 45's, 1 – 80's and one voltage regulator. Across the top of the inside flyer reads ""2 – 45 Push Pull – AC Screen Grid – Power Detector"" . The company pushed quality radio construction constantly in their brochure. Hum less operation and superior tone are two of the favorite topics mentioned. Their use of the latest technology available was another term used to describe the Farm – Lite radio. The Chassis is described as all metal and beautifully cadmium plated. It had a short metal mounting panel with beautiful escutcheon plate of modern design. There was a single tuning knob in the center of the set. The left-hand knob was the on-off switch and volume control while the right hand knob was the antenna shift (short / long distance) switch. The company was never listed with the county recorder's office, so the Farm-Lite must have been a small company of very short experience. It could be that it never got off the ground as the Great Depression loomed across the country. (Contributed by Dennis Hilberg)
FEDERAL RADIO
Located in SIOUX CITY, Jack Jacobs owned and operated a radio exchange business
F. W. STEFFEN
Located in HARTLEY, During the mid 1920's Fred Steffen worked as tinnier for a hardware store in Hartley, Iowa. He was a brilliant man, self-taught in every respect. At one point in time Mr. Steffen worked with a friend grinding telescope lenses. In a converted garage, he built his radios, at least twelve and perhaps as many as fifteen sets. There were at least two designs. One used three "99s" and the other used three "01A's". Quality wise the sets are average except for the cabinets. The cabinets appear, to have been purchased, perhaps from a local cabinetmaker. Each set had a metal tag on front of which read "F.W. Steffen-Hartley Ian." He also did repair work on commercial sets as well. Some time in the early-to-mid 1930's, Mr. Steffen left Hartley to work in a tube factory in California. During WWII, his friends in Harley lost contact with him. Note: These were home brew units and are included on this list to make note of one of the perhaps smallest manufacturers and/or to keep it from resurfacing in the future as a new find. Or perhaps Mr. Steffen went on to do some thing famous and the historical connection has not yet been made.
GALLOWAY
Located in WATERLOO, Owned by Charles Salisbury, made a radio called ""Salisdyne"" made inthe 1920'S.
HARDSCOG MANUFACTURING COMPANY
Located in OTTUMWA, Built Bremer – Tully radio sets1923 to 1926. Company was owned by Lester Hardscog who also owned radio station "KFJL". The company made speakers and phonograph units.
HATFIELD RADIO
Located in SIOUX CITY, 1924
HENRY FIELD SEED AND NURSERY CO.
Located in SHENONDOAH, Owned radio station ""KFNF"", this station first operated solely on battery power. Made – ? , and sold the Shenandoah Five and the Super Six during the mid 1920'S.
HUNTER MANUFACTURING COMPANY
Located in CORALVILLE, Amateur radios, Collins clones
L' TATRO MANUFACTURING COMPANY
Located in DECORAH, Company name was changed from TATRO_PRODUCTS_CORP to L' Tatro Manufacturing Company, 1938. 1936 hired Bart Setchell (of Setchell – Carlson fame) to design some new models: The BQ-69, AQ-69 & the SP67, TP67.
LINCON
Located in WATERLOO, Unconfirmed
MASTERPHONE COMPANY
Located in IOWA CITY, 1922's – 1928's? Ed Weidner manager Radio model 18 KNOXVILLE
MERCHANT SUPPLY CORPORATION
Located in SIOUX CITY, John E. Fee owner of the company from, 1925 to 1928. Click thumbnail for more pictures
METROPOLITAN ELECTRIC CO.
Located in Des Moines, Made radio set called the "Meco" Company was located in Fine Arts Building – 1925
MIDLAND MANUFACTURING COMPANY

Click for Gallery

Located in DECORAH, The factory was located in the downtown area at 107 N. Court St. Today the building is occupied by the Decorah tire store. The company manufactured three different kinds of A.M. radios of which two were AC-DC sets and the other was a 32 volt set. The models were M6A (Updated version M6D) M6B, (M6C), and the B6A (B6B). The sets are in Riders' volume #15. The Model M6B also appears in Sams Photo fact #2. The radios were cheaper built table models with wooden cabinets. The most interesting thing about the sets is that they used inductive tuning coils similar to car radios. Unfortunately Midland entered the radio market at a time when competition was fierce and many smaller companies were closing. This coupled with production problems (an unusually large percentage of radios had defects) led to the companies demise in 1947. (Submitted by Dennis Hilberg)

MI-KEIM RADIO COMPANY
Located in BURLINGTON, Manufactured Spark gap Radios, 430 Harrison Avenue – 1923
MORRIS REGISTER COMPANY
Located in COUNCIL BLUFFS, 1926, Monarch set Made a Coil master RF coil & transformer-winding machine. Indoor aerials – 1925 Zinc coated battery cabinets trade marked "Zincalite" Used the trade name "MO-RE-CO"
MYLES STANDISH MFD COMPANY
Located in COUNCIL BLUFFS, Manufactured Vacuum tube sets, plant were located at 2411 West Broadway, 1925.
NAIDEN BATTERY CO.
Located in Des Moines, Made a radio storage battery the "Naiden"-1923, Company was located at 316 SW 9th Street.
NATIONAL RADIO AND AUTO SUPPLY
Located in CEDAR RAPIDS, Early to mid 1920's, Mohawk chassis
PEEL RADIO CORP.
Located in DECORAH, Made the radios "Pelrad & Peladyne" company was located at 2207 Iowa St. – 1925
PETERSON CONDENSER COMPANY
Located in CRESCO, Made condensers for phone company Amrad Radio Built prototypes only in 1934 or 1935.
QUALITONE COMPANY
Located in SIOUX CITY, 1920'S Radio Frequency DR used 199 type tubes.
RADIO ENGINEERING AND APPLIANCE CORP
Located in MONONA, Manufactured farm sets late 1920's and early 1930's Company had its cabinets made by Brunswick – Dubuque Co. Elmer Johanningmeier owned and operated the company on the first floor of a old school building, stopped operations in 1930 due to the great depression. The radio that was manufactured went by the trade mark "REACO".
SERENADO
Located in CEDAR RAPIDS, No known model name
SERVICE ELECTRIC COMPANY (SECO)
Located in CROYDON, Late 1930's, Francis Fry owner, skeptical about this co. Supposedly 250 – 300 superhetrodynes sets made. Dealer, wholesaler, repairman, manufacturer, or what?
STANDARD RADIO EQUIPMENT
Located in SIOUX CITY, Radio exchange located at 511-7th street, on the third floor of a building that is called the Plymouth block. Also note that another address is listed for "Radio Exchange" is listed at 704 Pierce in the 1928 telephone directory. Ness Melham was the owner of this company. Most Sioux City sets were built by Jack Jacobs along with Ness Melham, both of Syrian decent. They manufactured sets for many dealers Hatfield Radio, Merchant Supply, and Federal Radio, for a short period of time.
TANGLEY ENTERPRISES
Located in MUSCATINE, Owned "KTNT" radio station, Norman Baker owner, in the late 1920's – 1930's. The Book "Doctors, Dynamite, and Gunmen"- "The life story of Norman Baker" by Alvin Winstor. This book has a lot of information about the Tangley Company and others.
TATRO_PRODUCTS_CORPORATION
Located in DECORAH, Lysle Tatro Patented 1st 32 V set 1930 – 1940'S manufactured farm Radio sets. Models made: M4616, 4 TUBE 6 VOLT, SUPER H, 1 BAND O4626, 4 TUBE 6V, SUPER H,2 BAND H465, 4 TUBE 6V, SUPER H, 1 BAND S6636, 6 TUBE 6V, SUPER H, 3 BAND J665, 5 TUBE 6V, SUPER H, 2 BAND. (Note some 80 different models were manufactured) Purchased by H. B. Montgomery, on August 1, 1931.
TIPTON RADIO COMPANY
Located in TIPTON, Used a Philco chassis.
TRESCO
Located in DAVENPORT, Radio transmitting sets, complete units, plant was located at 1416 W. Pleasant St. – 1923
TRI-CITY RADIO ELECTRIC SUPPLY CO.
Located in DECORAH, Simple Simon -1925
TRI-CITY RADIO LABORATORY
Located in DAVENPORT, Tri-City refers to the cities of Davenport, Iowa and Rock Island & Moline, Ill. Later had a connection with Clinton, Iowa. Company began with a couple of Ham radio operators, who liked to design, build and sell radio apparatus. Robert Korlowa of Rock Island (9XR) and his partner William H. Kirwan of Davenport (9XE). The start up date (unconfirmed) 1914 first advertisement appeared in print in June 1916 listing company name as Tri-City Radio Laboratory. After WWI Tri-City began advertising a series tuner box unit and some complete receiving units. After December 1919 ad's for Tri-City signed ""Tresco Sales Agency, Davenport, Ia."" The sale flyers of this time give Clinton, Iowa as the location of the "Perfection Radio Laboratory, and later the Manufacturing Dept". The flyer illustrations are marked, drawn by D.I. Bailey (Alan Douglas pub of Radio Manufacturers of the 1920's) assumes that he became a partner in Tresco at the end of 1919. Meanwhile Karlowa was head of the Radio department of Young & McCombs a department store in the Best Building in Rock Island,Ill.Young & McCombs advertised in QST and sent out catalogs featuring Tresco equipment. Crystal set "Trescola" – 1925. In February 1921 Karlowa brought out the radio department of Young & McCombs and sold radios and issued a similar catalog in his name. Before the end of 1920 Tresco acquired an Armstrong regenerative license. In June 1922 the Tresco ad's took on a new look showing the "Sectional Universal" receiver. These ads were singed "J. Matherson Bell sales Manger." Bell worked his way up in Montgomery Ward to become Merchandise Manager and later to found Ozarka). Note in Bell autobiographical he stated he left Wards to found his own company(Ozarka).No mention is made of Tresco, an omission, oversight or did he work for both companies simultaneously? His name appeared in Tresco ad's until June 1923. In early 1922 Montgomery Ward with Bell's connections Tri-City manufactured some of Wards sets. At the time Ward had been selling many different brands such as Westinghouse, Tuska and Kitzen. But in October of 1922 Wards began featuring a Tri-City model in its ad's and catalog. Demand outstripped the production capacity so for the following year arrangements were made with Briggs & Straton in Milwaukee to manufacture sets for Tri-City, working from designs by Pfanstiehl Radio Service Company and shipped directly to Wards. Tri-City lent its Armstrong license to a number of radio manufactures: Crosley Telmaco (Telephone Maintenance Co. of Chicago a manufacturer and dealer) Remco (a one man cellar operation on E. 2nd st. Davenport, Ia) Trego (owned and run by Mrs. Nellie Trego in Kansas City, Mo.) In 1923 Westinghouse filed suit to end subcontracting of Armstrong license, at first it was reversed in the district court, eventually it was declared illegal. As Tri-City fortune declined the Davenport business became Tresco Sales Inc. After July 1924 the Tri-City name and Armstrong license were sold to Steinite. Steinite soon began advertising Armstrong regenerative models by the ""Tri-City Radio Electric Supply Co.,"" Atchison, Kansas. By mid 1926 Steinite dropped the regenerative models and the Armstrong license, the Tri-City name disappeared. The Tri-City history, in most part, is adapted from Alan Douglas' "Radio Manufacturers of 20's"
TUNWALL RADIO COMPANY
Located in FORT DODGE, Owner Radio station KFJY 1924
UNIVERSAL TALKING MACHINE CO.
Located in CEDAR RAPIDS, Made Radios – what models – ?
Unknown (Des Moines Superset)
Located in Des Moines, Des Moines Superset
W F MAIN RADIOPHONE COMPANY
Located in CEDAR RAPIDS, Model "The Splendid Grand"
WENTWORTH RADIO COMPANY
Located in CRESCO, Made one tube radios from kits? Early 20'S?
WORLD RADIO LABORATORIES
Located in Council Bluffs, Started out during WWII as a crystal supplier to the military. After the war ended they started selling radio parts and Amateur Radio Equipment. They were one of the first to make amateur radio gear available in kit form. The company is also credited as a pioneer of transceivers — a combination transmitter and receiver in one unit. Here is one of their early Transmitters the Globe King 500 circa 1949.