WHO Radio in Des Moines was the third station to be honored by IARCHS in our club's 2016 project of recognizing Iowa's Pioneer Radio Stations.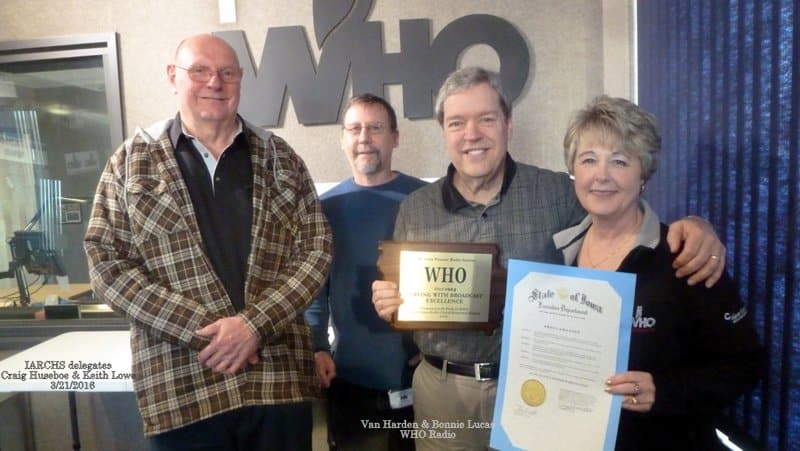 HERE is a LINK to WHO Radio with the Audio from that Broadcast
Craig Huseboe and Keith Lowe were our club delegates to WHO on March 21, and both found themselves on the Van & Bonnie Morning show which has a large listening audience in Iowa. Both Craig and Keith handled their roles quite professionally, as expected, and with a bit of humor appropriate to the show….like… "if I bring one more old radio home, my wife says she's moving out"…. But talk show hosts Van & Bonnie were sympathetic, and said they also appreciated and even owned antique radios too. As with other IARCHS pioneer radio station visits, our main focus was to spotlight the history of that station.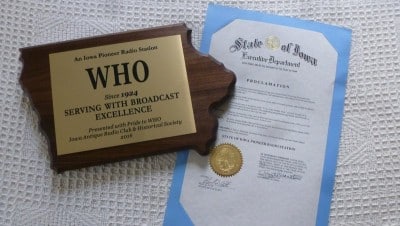 WHO went into their archives for us and found an amazing recording from WW2 that they played during our IARCHS segment on air. It was of Jack Shelly, their very well known WHO newsman who found himself on a Pacific island at the very end of the war interviewing the pilot of the B29 that just dropped the atom bomb on Hiroshima…Paul Tibbets… also from Des Moines. Van and Bonnie made a point very well with their playing of this special recording ….it represented just a tiny bit of the unbelievable amount of history that has gone out over airwaves from WHO to countless thousands for decades…and continues to this day.
Craig and Keith, the IARCHS duo, presented WHO with a plaque from the IARCHS club and a Proclamation signed by Iowa Governor Terry Branstad naming WHO as "An Iowa Pioneer Radio Station". Even though our segment on air was only about 12 minutes, it covered a lot of ground and was placed on the WHO website, with the IARCHS website mentioned. In just a few minutes after the broadcast, an email came in from an Ames listener wanting more information on club membership. We thank all at WHO Radio, including those behind the scenes, for their hospitality and support. It was quite an experience.
Anton Vanicek for IARCHS