Club members and guests at the 3/31/18 IARCHS meeting in Davenport  were invited to visit Bruce Sorensen at his home to see his collection of classic console radios. Bruce has assembled what may be the finest collection of the 1930s "Golden Era" EH Scott and McMurdo Silver radios. I will let the photos, placards and captions do most of the talking. While Bruce's main interest is Scott and McMurdo, there are a smattering of other top of the line radios and custom cabinets. Zenith is conspicuous by its absence. Most of the radios have been restored and many were playing at the visit utilizing his SST AM transmitter. Chassis restoration has been done by experienced restorers. According to Bruce, finding original cabinets is the hardest part. Bruce sends the cabinets out of state to experts experienced in bringing the cabinets back to factory finish condition. Step down transformers are used to keep the radios protected from modern AC voltages which often runs over 120V. Voltage is reduced to 105V which helps protect radios designed to run at the old AC 110V level. The search for these uncommon high end radios has run far and wide. According to Bruce, trading in this segment is subject to some frustration as it not unusual to lose contact with buyers, sellers, and repair people for long periods. It was a pleasure to see and hear these wonderful radios.
Bruce Sorensen:  "I started collecting radios in 2004 when I retired and I seldom watch TV but always have been a radio listener as far back as I can remember.
Since then I have gravitated more to the high end 10+ tube 1930's consoles. I am a collector not a restorer, so I focused on EH Scott consoles and at one time had 35 in my collection. 
Lately I have focused more on the ultra rare McMurdo Silver Masterpiece series and currently have the entire run of all 7 versions offered.
(including both of the 1st year Masterpieces, chromed and brass plated)
I am downsizing some of my collection so others can also enjoy listening to these old classics.
If only our radios could talk and tell us what they have seen and heard what a story that would be."
Bruce's contact info:  y2kbruce@gmail.com  309-736-7555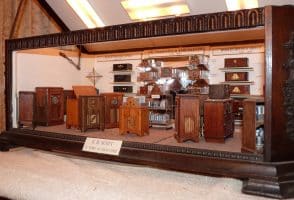 Post Editor: Doug Spyrison
Photos: Doug Spyrison and Dave Perkins