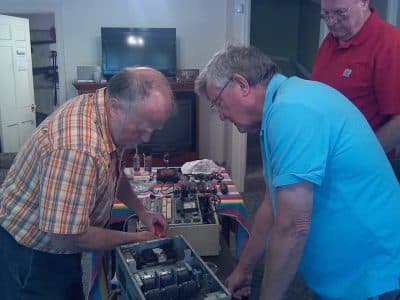 On Saturday June  10, 2017 a club meeting  was held at the home of Rob Tracy in Des Moines.  Due to schedule conflicts, it was a small gathering.  In attendance were Rob, Al Bailey, Craig Huseboe, Dave Perkins and new member Ron Russel.
Business and Discussion: Craig reported on the April auction.  550 lots were sold with gross sales of $22K   The club netted $462 which is an improvement over previous years. (One expense was still pending as of this report.) The improvement was  primarily due to the reduced advertising expenses this year.   The feedback we got from the crowd and the auctioneer's staff indicates that our switch to a combination of direct mailing to past participants and on-line promotion away from multiple print ads, worked well so we concluded that we will stick with that for the foreseeable future.   Also, both from the crowd and the auctioneer, it seemed that moving the auction up one week earlier than in the past worked quite well. Craig said that Wears Auctioneers will be available so we decided to set the tentative date for the next auction of April 28, 2018.
In other discussion, a couple of members have commented that the club should be better at keeping the event calendar up to date.  No one person is charged with that task so those that have access to it haven't always thought to take care of that.  [Note to all, I'm one of those people and guilty as charged, I'll try to be more diligent and if you see something that should be there but isn't please 'ping' me].  Another very good suggestion is that we should add a prominent link on the web site's front page to information on the time and place of the next club meeting.    At this point that meeting has not been set.  I will be asking, via a general email, for people to volunteer a location.  As the last two meetings have been in central Iowa, I'm hoping to have someone elsewhere in the state to offer a place.
Repair Session: Rob gave everyone a write up on a simple & handy coil tester which should be posted on the website as a separate post.  Photos: Rob Tracy in the ISU  shirt. Ron Russell in blue, Craig Huseboe in red, Dave Perkins in checks,  photos by Al Bailey (not pictured). 
New member Ron Russel, had acquired a couple radios (a Majestic and a Grunow) a week before our meeting. In the meantime he found and joined our club and  showed up at this meeting with the Majestic,  both to see what it would take to make it play, and to start on the process of learning some about restoration.   After testing the tubes, cleaning the controls and replacing the power supply caps with parts that Rob had on hand, it did play clearly but at a rather low volume.  With some signal injection and tracing and a few more measurements, we concluded that some of the old 'dog bone' resistors had drifted  out of spec to higher  values and, most importantly, the volume control resistance was out of spec.  We were able with some jumpers to try some different, resistors but Rob did not have a suitable volume control pot on hand.  So we concluded our troubleshooting session with some ideas on what to look for in the way of parts and hopeful that he could at least acquire the necessary parts.  It was a steep learning curve for someone who'd never looked at a schematic before, so Ron, if you get hung up on your project, keep in mind that you can always bring it & some parts, to the next meeting once I have it set up.
That's it for now.  Everyone enjoy your summer bargain hunting at flea markets and yard sales, keep cool and watch for an announcement of  our next meeting time & place.
Submitted by Dave Perkins, IARCHS President
WordPress editing, Doug Spyrison