Arvin 956-T Twin speaker table radio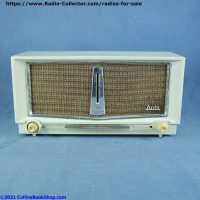 The Arvin 956-T radio as produced between 1955 and 1956. It was a broadcast receiver using Arvin's RE392 chassis with 5 tubes (12BE6, 12BA6, 12AT6, 50C5, & 35W4). Arvin was a brand of Noblitt-Sparks Industries. This radio is operational, not sure if it was restored but it plays without any hum.
Missing the back knob on the tuning control (non-functional decoration only), and the indicator bar has a small piece missing on the right side.