Philco Mustang E-676-124 Portable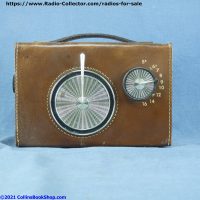 The Philco Mustang Model E-676-124 Radio was made between 1956-1957. It used a Philco 124 chassis and had a 'Tan' colored leather case. It covers the broadcast band only and uses 4 tubes (1R4, 1U4, 1U5, & 3V4.
No visible issues, the handle is excellent, and the case closure snaps work fine.